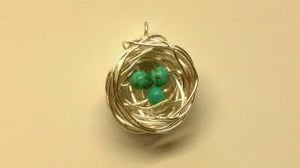 $

35.00
A Mama Bird is a symbol of unconditional nurturing love, protection and self-sacrifice - something that so many mothers shower on their children.
Give the "Mama Bird" in your life a symbol of your appreciation with these simple yet profound Bird's Nest pieces.
Beautiful freshwater pearls or turquoise stones are carefully & lovingly hand wrapped and woven with silver, gold or copper wire to become an elegant and unique piece of jewelry.
Choose your design, wire and stones below.